In the 60s and far beyond, the roof of the Commonwealth Institute could be seen across Holland Park swooping like an exotic bird in flight calling to its mate, the Snowdon Aviary at London Zoo.  Lightly veiled with the fluttering flags of the Commonwealth at the front and the rippling water of the pond, the pavilion looked like some kind of space age stingray come to rest.
                                                      stingray 
The gradual relinquishing of the Commonwealth, unfashionableness, disinterest, late Grade 2 listing, disuse and years of decay meant that for the sake of preservation, renovation and nowadays reuse, the ebullient spirit of the Festival of Britain had to be quelled.  Architectural preservation comes at a price.  The exterior of the building stills cuts a dash with its jauntily angled  hat of a roof but its limbs and its accessories of spacious gardens together with the long sideways entrance of the abstract black wall, have been cut off, and the magisterial front court encroached by luxury apartment blocks.  These are spoils of the battle for funding to secure its necessary part preservation, restoration and re-use.
Inside there used to be a modernist nod of emulation to the vaulted ceilings of Romanesque cathedrals, the empathy of the sweeping curves of the generously sized walkways, tiered  with the focus down on a central axis and up, mirroring  the curved sections of the state of the art hyperbolic paraboloid roof.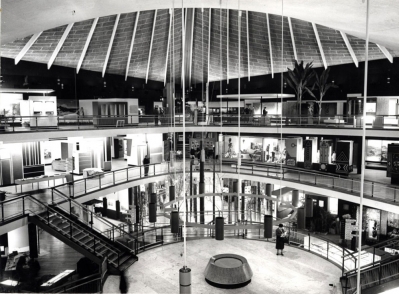 cathedral heights
                                                sweeping curves
Now, replaced by a blond oak square shaped structure of ground, first and second floor mall-like levels, connected with staircases to ascend and descend like the repetitions in the works of MC Escher.   Aficionados of blond wood, hidden seams and engineered lines will love and identify with this sleek 21st century interior – current luxury hotel and millionaire's apartment chic.

                                                    blond wood
Creeping out at the corners are tantalising glimpses of the restored original roof and of the huge flying buttress concrete supporting pillars.

                      tantalising glimpses and daylight piercing through
I am relieved to see that the exotic bird has been saved with some of her former plumage intact.  I am happy that the Design Museum has a new and grown up home.  I am just a bit sad to see my stingray now encased in an aquarium in a zoo.
Fans of the Festival of Britain and the heyday of the Commonwealth Institute Building can 'get the gist' from my curated selection of items.