Collecting is the topic that is the menu del dia:  'The Artist As Collector' at the Barbican; numerous  Auctions of 'collections' curated by celebrities, Collectaholics on the TV, the list goes on.   
Time-capsule accumulations are fascinating: at their least contrived they tell us a lot about how we were at a given time.  Accumulations of records, classified by genre, ordered and stored in 80s multi-coloured striped  vinyl covered square storage cases.   At the time, each acquisition was such a carefully thought out process.   Hours spent in record shops fingering through the A-Zs:  picture disks, double albums, foreign imports and then plucking up the courage and venturing off into the hived off classical section to dip a tentative toe into simple baroque, romantic, and then opera , entranced by the siren voice of a female soprano.  Their covers are now an aide-memoire of emotions spent.   Back in the day an LP spinning: Summer exam revision …trying to remember the difference between aerobic and anaerobic respiration, painting my latest mural of teenage angst and expression on the bedroom wall; mulling over distant crushes while warbling along. 
Looking at it now, my 'vinyl' is a collection.  No need to have it entombed away in dusty cases:  It can be redefined, rearranged, displayed and enjoyed in different ways.  Extract the records in their inner sleeves from the record cover sleeves and then make 3 x 3 framed montages of 9 iconic record covers producing a 1m x 1m wall hanging piece of art that is a monumental  in size and statement about  taste in music; my own curated mini-collection within a piece of art.  Store the records back in the vinyl storage case and either buy a vintage turntable or a turn table in vintage style and spin those discs, once again off in the world of reverie.
The joy of the inner sleeve:-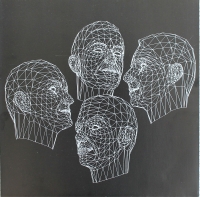 Ah….. Moments In Love …… and before you think I'm Going Out of My Head, let's stop this trip down memory lane and get back to cyberland.  I'll send a cyber high five to anyone who can tell me the title of the Scott Tracy picture disk …….
Collections, accumulations, assemblages
My next News and Views piece will be 'Collecting from the Heart'.  What interests me is not what people collect,  nor telling people what to collect, nor how to value collections but more why we collect and how those at first single objects gradually are joined by others of kind to form an accumulation; how we classify and arrange our accumulation which finally morphs into a 'collection'.  A collection that reflects our inquisitive natures, our passions, our professions, and our observations of the world at any one time.